Dr Ratan Lal Mittal Padma Shri:- Octogenarian Dr Ratan Lal Mittal, a renowned orthopaedic surgeon from Patiala, received Padma Shri for his contribution in the field of medicine. Dr Mittal, a former professor and head of the Orthopaedic Department at Government Medical College, Patiala, is known for performing rare clubfoot surgeries free of cost. Dr Mittal has done cutting-edge research on severe, rigid and neglected clubfoot deformities — highly prevalent in lower and middle income countries, including India. Notably, Dr Mittal, in September, had performed an unprecedented corrective surgery of world's first S-shaped foot deformity on a 10-year-old kid. While talking to The Tribune, he said, "This is award for my contribution to pioneering work in clubfoot surgery technique. With this technique that I invented, any type of clubfoot deformity can be corrected. I am thankful to the Government of India for giving recognition to my research work." Dr Mittal said his research work started at the Anatomy Museum of Government Medical College, Patiala, in early 1970s.
Tarlochan Singh Padma Bhushan:- The third highest civilian award, to Tarlochan Singh for his contribution in social service. Born on July 28, 1933, in Jhelum, now in Pakistan, Singh had served as press secretary to former President Giani Zail Singh and has vast administrative experience with having served in various capacities in Punjab and Central governments. Talking to The Tribune, Singh expressed happiness and thanked the Government of India for recognizing his work in the public sphere.
Jitender Singh Shunty Padma Shri:- Jitender Singh Shunty, who received Padma Shri, is the founder of the Shaheed Bhagat Singh Seva Dal, engaged in the service of people by transporting Covid-19 patients to hospitals and caring for unclaimed bodies.Expressing happiness on receiving the award, he said it belonged to each and everyone who helped him accomplish the work during the pandemic. "I am inspired by Bhagat Singh, who at the age of 23 kissed the hangman's noose for the country." A two-time councillor from the Jhilmil ward and former Shahdara MLA, Singh has been engaged in running the foundation for 25 years, providing free ambulance services to the poor. Their chain of service remained uninterrupted all through the crisis even though Singh got infected with the virus along with son Jyot Jeet and wife Baljit Kaur. During the crisis, Jitender had told The Tribune: "I have no regrets that I have contracted the virus. It was something I was anticipating. My only regret is I am unable to personally serve the people who might still need my help. We may be quarantined at home but our organisation's activities continue uninterrupted."
Prakash Kaur Padma Shri:- Prakash Kaur  who was awarded Padma Shri today term it a well-deserved achievement. Left on the streets as a baby 60 years ago, she was raised at Nari Niketan in the city. Today, she is a mother to 100 abandoned girls. She has been running 'Unique Home' — a centre for orphans, "unwanted" and "unclaimed" girls — on the Nakodar Road, for the past 28 years. Almost 30 girls raised by her are married. The other 70 are studying in private schools and colleges. While some of them are doing MBBS and BTech, others are pursuing LLB, psychology and other professional courses.
Smt. Lajwanti Padma Shri:- Patiala-based Phulkari artist Lajwanti (64), who has been doing the artwork since she was six, was honoured with the Padma Shri award. Having received a national award in 1993, she still awaits recognition of her work by the state government of Punjab. The Tribune had carried a story on her when the award was announced in January. "My family brought the art to India while migrating from Multan, Pakistan, during Partition. I learnt it from my grandmother out of interest," she said. Later, her two sons and three daughters also joined her. On the receipt of the award, she said it was a matter of great pride.
Narinder Singh Kapany Padma Vibhushan:- In recognition of his contribution in the field of 'fibre optics', the Government of India bestowed Padma Vibhushan, the second highest civilian award, upon Indian-American Narinder Singh Kapany posthumously on Tuesday. Known as the 'Father of Fibre Optics', Kapany coined the term fibre optics, Rashtrapati Bhavan said in an official release, adding he "laid the foundation for today's high-speed Internet technology". Kapany, born in India's Moga in 1926, died last year. His daughter Kiran has said the family was "truly humbled" and "overwhelmed". She thanked the Government of India for bestowing the honour on her father. On his work on fibre optics, Kiran is reported to have said: "We realize how deeply he touched so many lives and how he laid the groundwork for so many to know that they could also reach for the stars. We thank you with all our hearts." Narinder Singh Kapany has also been honored in the past with Pravasi Bharatiya Samman by the Government of India. His daughter received the award.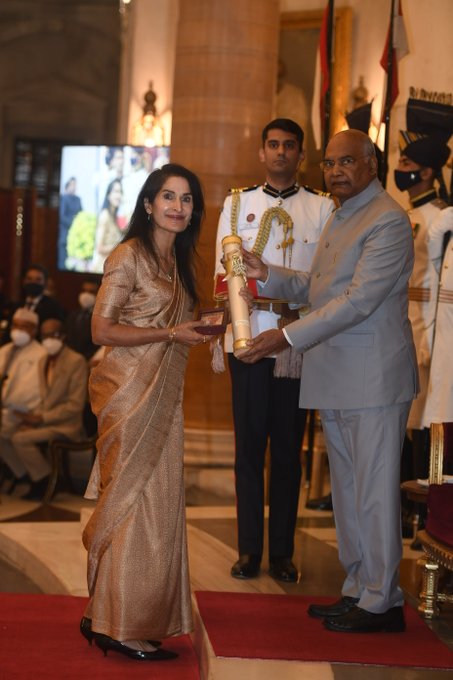 Courtesy: The Tribune